The Operational Research Society – Sustainable Maritime Operations Stream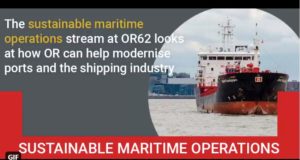 How does OR promote the sustainability of maritime operations?
14:30 – 15:30 | Tuesday 15 September 2020
This session, featuring the EU-funded projects PortForward, COREALIS, and PIXEL, will discuss the topic at length. Funded by the European Union's H2020 programme for research and innovation, these projects are part of the "Ports of the Future Network", whose primary aim is to identify and define the key concepts of the ports of the future.
Each of the talks in the session will present an innovative tool that uses OR techniques to address topics such as sustainable container terminal operations, multimodal transport planning by considering traffic efficiency and environmental challenges, and long-term port supply chain planning.
Supply Chain Modelling as a Transversal Tool: the Port Activity Scenario Model
The PIXEL Consortium has been working on the definition and implementation of a tool to represent a port's supply chain. This work, aimed at improving the energy efficiency in one of the project pilots, has driven the Consortium to realise the importance of simulation scenarios for port planning.
In this talk, presented by Erwan Simon (CATIE), we will discuss how the developments in PIXEL can be leveraged by the port community for better planning and productivity, and provide examples of usage and potential future perspectives.
The whole video presentation is available here
The slides for the PIXEL presentation are available here