PIXEL End-to-End IoT Platform
Meet your Port of The Future, environmentally efficient and fit to your budget
PIXEL is a smart, flexible and scalable solution for reducing environmental impacts while enabling the optimization of operations in port ecosystems through IoT.
PIXEL is a secure IoT platform that evaluates the environmental performance of the port based on the data collected through plugged-in agents, enabling energy and environmnetal modelling, as well as vessel traffic and intermodal transport optimization through advanced predictive algorithms. This big data engine fits the most demanding data needs of ports, terminals and shippers in the pursue for environmental efficiency through a digital trasformation that will have on them a positive impact in the optimisation of operations. It is modular and flexible, and ready for 3rd party integration, based on proprietary computational models and predictive algorithms addressing the data needs of the maritime industry.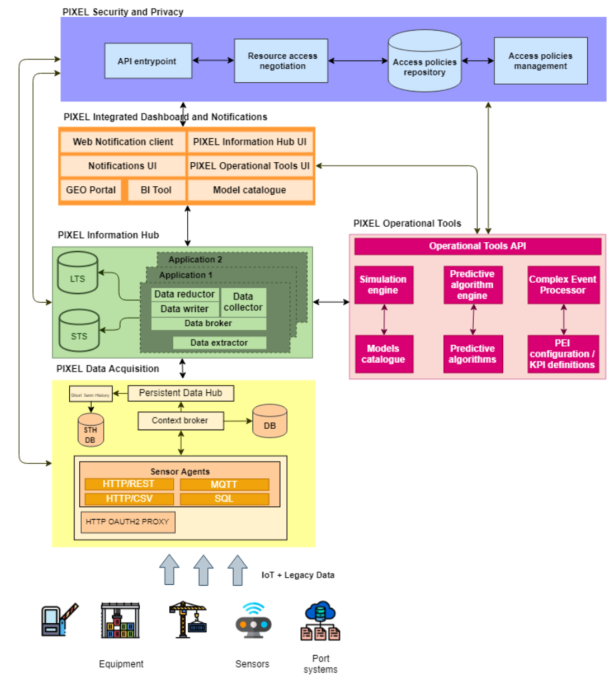 1. Adoption of a Port Environmental Index as a global quantitative measure to monitor and act on own environmental footprint.
2. Improvement of logistics through data analytics over waiting time for vessels, on-time performance.
3. Port operation optimisation including the appropriate monitor of environmental-related activity.

1. Reduction of environmental impact of port activities (e.g. greenhouse gases for 15-20%).
2. Increase of renewables energy uptake in use-cases at small, medium and large ports.
3. Reduction of operational and infrastructural costs with better Port-City integration.

Keywords:Big data management, Model Orchestrator, Data Stream Processing.